Gimbal Head Comparison – Pro Choice of Gimble Head
Gimbal heads are an essential accessory for professional DSLR users who want to shoot high-quality videos, wildlife photography, or capture action and sports shots. The common link between all these subjects is that they move frequently and are often in the distance. (That's why you see many wildlife and sports photographers using super long telephoto lenses to get close-up shots.)
Heavy-duty, pro quality equipment can be extremely heavy and bulky and is nearly impossible to be held by hand for any length of time. It can even hard to balance a telephoto lens on a normal tripod head, or a ball head. In addition, extreme zoom has the effect of magnifying even tiny hand movements into focus-ruining jumps and shudders. The solution for all these problems is a high-quality gimbal head.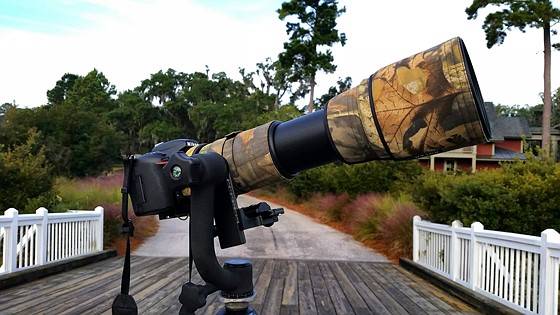 Gimbal heads make using large lenses comfortable and effortless. When you get to a perfect balance position, these long (and super long) lenses feel weightless. This is helpful particularly when tracking a moving subject through a scene.
It can take a little bit practice to find the right balance.
The trick of getting a gimbal head perfectly balanced is to leave a little wiggle room on the mounting bracket, so the lens can be slid back-and-forth. That may sound counter-intuitive to you, but it works really well. When the mounting knob is not completely fixed on the position, you can move the plate and the camera freely.
Additionally, make sure that the gimbal head that you use includes an Arca Swiss plate, so you can easily transition your camera on/off tripod and gimbal heads.
Pro Choices without Breaking the Bank
Until just a few years ago, gimbal head selection was quite limited. Now, you can find a quality gimbal head on eBay, Amazon, and MOVO! There are various types of gimbal heads, with the "J" shaped ones being most popular and practical. While the entry-price gimbal heads start around $100, the expensive ones can go up to $800.
MOVO GH700
The MOVO GH700 is our star gimbal head, also the best entry-level gimbal head on the market, period.
Independent photographers state this to be one of the top gimbal heads available – with almost 400 near perfect reviews on Amazon. The head itself weighs just about 3 lbs, relatively light-weight compared to many other ones. For $99, it's perfectly sturdy and smooth and holds up to 30 lbs of camera weight.
For an upgrade, the MOVO GH800 and MOVO GH600 are lighter heads, and can hold up to 33 lbs weight.
Wimberley WH-200
Wimberley is one of the most well-known names for gimbal heads. It was introduced to the market in 1991 and has been recognized as the industry standard for wildlife photographers. The Wimberley WH-200 is approximately $595.00
RRS PG-02
If you are looking for the bells-and-whistles of gimbal heads, check out the RRS PG-02. It is beautifully designed to handle very large lenses with solid stability and support. The head is heavier too, 3.6 lbs, but can hold up to 50 lbs camera weight. This can be a dream product, if pricing is not an issue – it ranges from $670 to $900.
As vouched for by the numerous near-perfect reviews, photographers really like our affordable MOVO GH700, and you may wonder why anyone would consider paying 8x the price for a RRS PG-02. Well, first of all, there is the weight capacity difference. Furthermore, the RRS customers would tell you how much they love the modern design and the smooth operation.
---
So which one would you choose?