Featured Voices: Alex Wohleber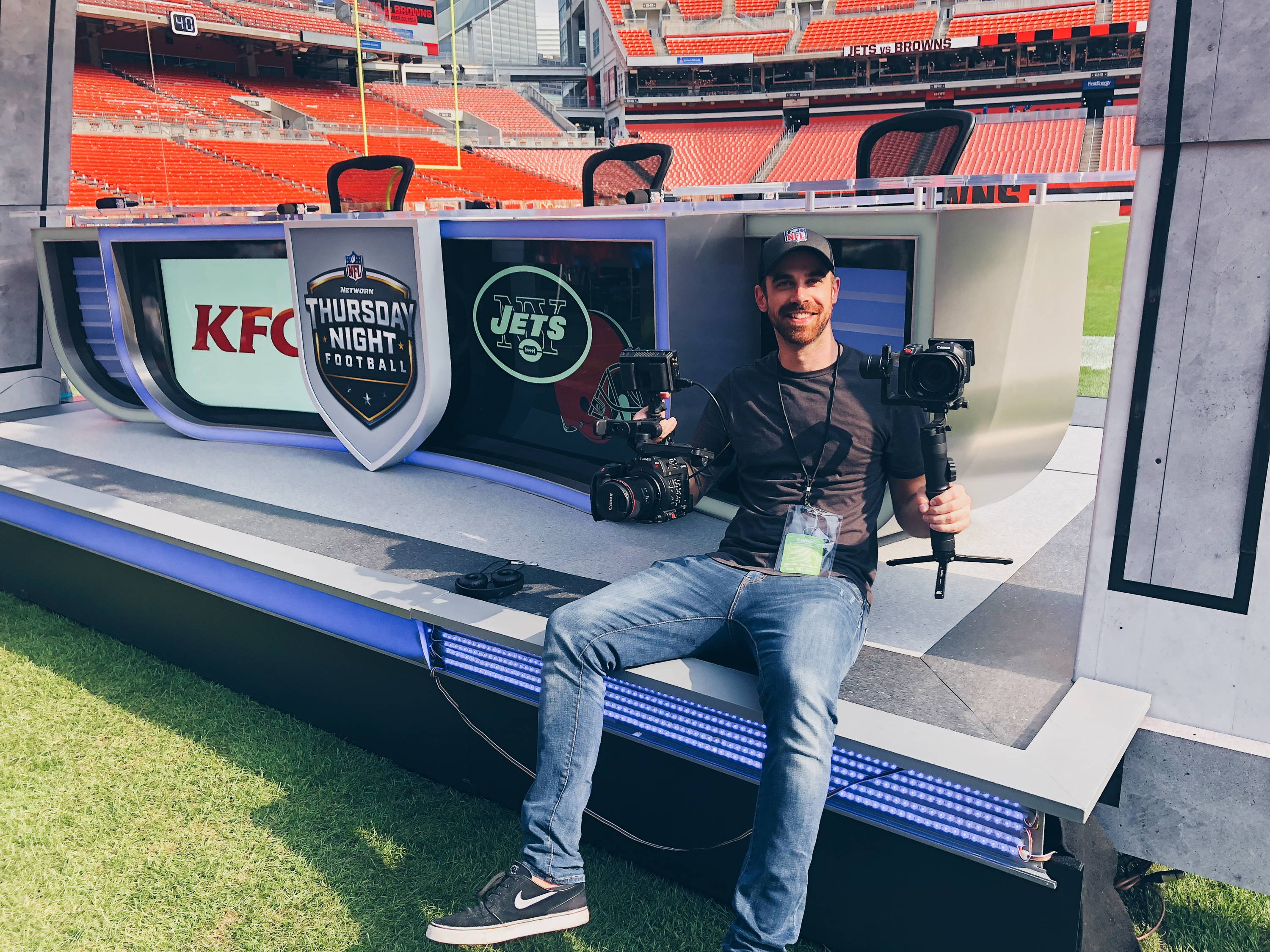 As part of continued efforts to share your mobile voice, we are introducing Featured Voices to help customers share their stories. To learn more about this initiative or apply to be featured, click here.
This month's Featured Voice is Alex Wohleber, an award-winning and internationally published creative filmmaker and photographer. Alex has worked with some of the biggest names in the industry, such as Universal, the NFL, Geico, and Ubisoft, and even paved his way into becoming a social media content creator for NFL star Antonio Brown.
Alex just returned from shooting with Russell Wilson and Ciara in Rio de Janeiro, Brazil, and made time to join MOVO for a quick interview to share his incredible story.
You started filming at age 10. What inspired you to get into film at such a young age?
I loved movies for as long as I can remember. When I was just 3 years old or so I would sing and dance to The Wizard of Oz and Annie on VHS. I was always enamored with storytelling and the power of film. At 10 years old, my dad gave me his old camera which had a broken microphone. I was making silent films and I loved it. I would film my friends and myself all the time, trying different film tricks I'd teach myself like starting and stopping while keeping the camera still to make people disappear. And we would make dummies and props and throw the dummies off the club house roof and I just remember it was my favorite thing to do.
At this point, I had no editing capabilities, so it was all in camera editing and figuring out how I could tell a story. I loved that my imagination could go wherever it wanted; it was the ultimate freedom for me. I would even bring my movies to school and show them to my class. I wrote a lot as well. Once I was introduced to the horror genre, I really loved telling scary stories. My first horror film I remember was seeing Child's Play on TV, and shortly after the TV adaption of Stephen King's It.
How would you describe your filmmaking style? How has it evolved over the years?
Well, it was my arts high school that allowed me to grow and learn at such a rapid rate. We had a collegiate full level video program, news room, and top of line Canon XL1's. This was 2002, my freshman year. I was able to come in and say, hey I want to direct something and learn to edit, and my school had an amazing team of teachers who basically said, this is your playground, do what you want. I won several national awards in video during my high school career and that was really when I knew this is what I want to do for the rest of my life.
But to answer the question exactly, I would describe my filmmaking style as cinematic documentary. At first I was able to work with bands a lot, and then athletes. My turnaround time needed to be quick, so I became a very efficient yet thorough shooter. I was able to turn around a project very quickly, without losing the story or the quality.
My first big project with the NFL was being able to film and edit my ride into the stadium of the player I was with and have it air before the game started. So I'd have about 2 hours from when the player arrived to when the game would start. That was definitely high pressure, but I never missed an air date. It was a lot of fun!
NFL Forward - Kurt Warner Video by Alex Wohleber
NFL - Antonio Brown plays Madden 18 with his kids and GetGood Drums Founder Profile: Misha Mansoor Videos by Alex Wohleber
You've done a lot of work for the NFL and even traveled with Antonio Brown during his time with the Pittsburgh Steelers (note: Brown was traded to the Oakland Raiders on March 9, 2019). What was that like? Any memorable moments or highlights while traveling?
Well, working with Antonio brown was a dream and goal of mine. You know, nowadays people dream of meeting a celebrity. Kids say things like, if so-and-so retweets my tweet, I'll DIE. My life will be complete. Its sad to see people view celebrities this way and to have such low self-esteem. I set out and said, I will work with AB. I loved the Steelers since I was a kid, and he's my favorite athlete. So you know what? That's what I did.
The one lesson I always preach is to go do it; if the opportunity isn't there, create it. I could tell countless stories of amazing experiences with Antonio and NFL, but let me tell you how it started. I tweeted to AB and he followed and tweeted me back after I made a bet with him about the NCAA basketball finals. I ended up losing (winning) the bet by offering to 'be his assistant free for a year.'
Now this led us to essentially meet each other online. He found me on Instagram and saw my work and I used the opportunity to say hey, let's film something. Now, at the time, I had a job at a production company so I couldn't just leave DC and go to Pittsburgh on a whim. So after some missed opportunities, we stopped talking really and I was bummed about it. A couple months later I was getting ready to leave my job as I knew the company was heading down a bad road (it closed a year later) and thought all was lost with working with AB. He didn't respond much and I was hours away. Then a friend of mine said why don't you edit something awesome with the footage that exists? Why not make some great edits and SHOW him what you can do?
I did exactly that. And it worked. AB loved the edits and posted them on his Instagram. We met when he came to DC for a signing, and that's how our relationship started.
As far as the NFL, it's been the best experience of my life. I was able to meet a senior producer at a shoot I was at with AB. I made sure to introduce myself and was even able to edit a short Instagram teaser clip right there on the spot for him, and that's how that relationship started. Football is my favorite sport by far and to be able to collaborate with the NFL on big projects and television content is a dream come true.
What about your most recent trip with Russell Wilson and Ciara?
Incredible trip. Russell and Ciara were sweethearts and great to work with. I'm excited for everyone to see the final product. Not sure when that'll be though. It was challenging filming large events and having to cover so much in a short period of time, but that's when efficiency and skill play a big part in getting the shots.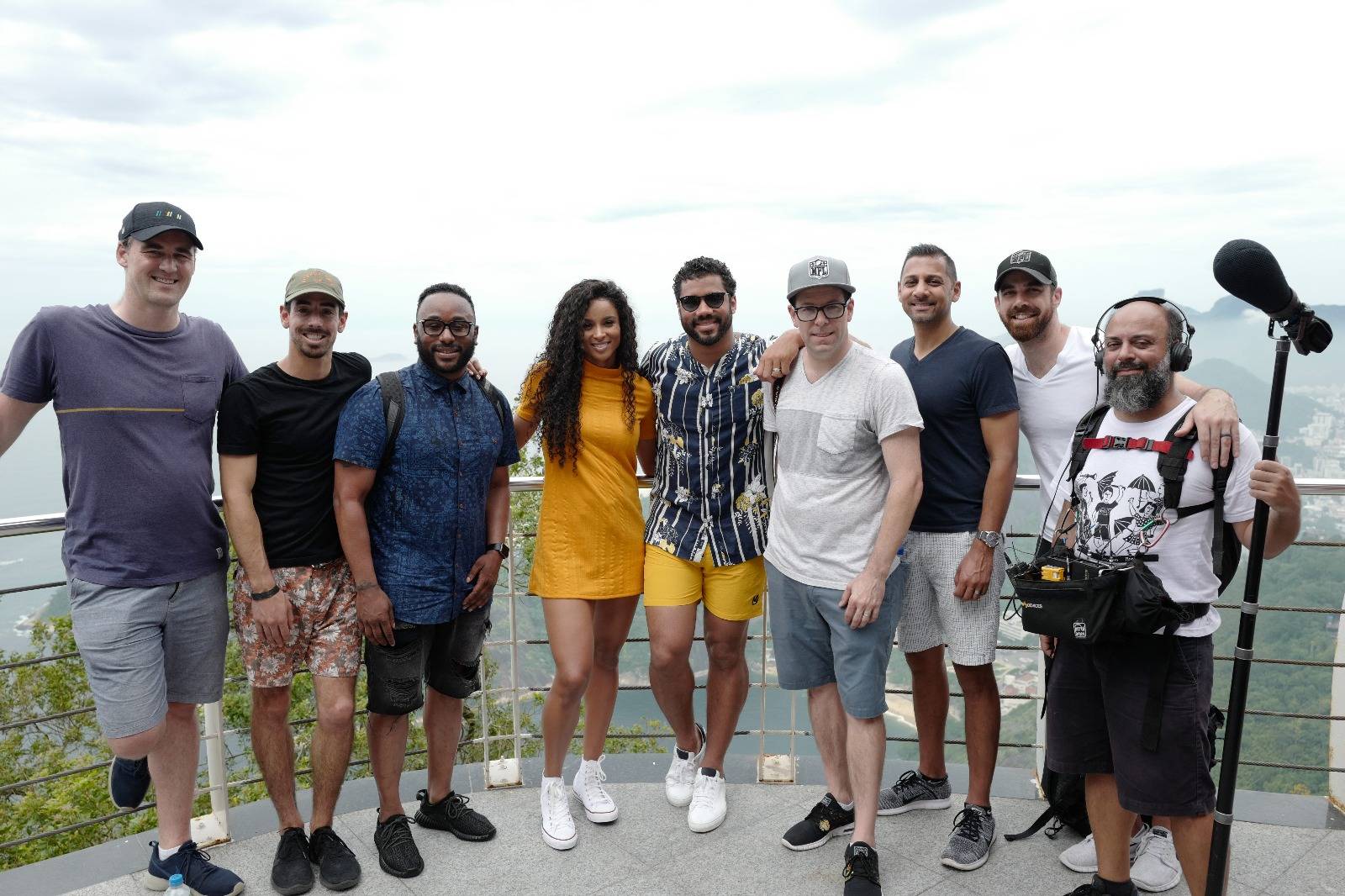 Alex and the NFL Team on their most recent trip to film Russell Wilson and Ciara in Rio de Janeiro, Brazil.
Out of all of the countries you've filmed in, which was your favorite and why?
I would say either London or Rio de Janeiro, where I just was. London because I was there with the progressive metal band Periphery and they sold out KOKO. I got to film that concert which had the most energy I've ever seen at a Periphery show. To be a part of a tour and experience an epic show like that, it gives you goosebumps. And to be there with some of your best pals makes it even better. It was an electric night. I even took a lot of footage from that night to make the documentary on Misha, which won best documentary in the 'My Rode Reel' film competition.
Rio was great because it's beautiful there, and we got to see Carnaval, which was something everyone should experience. We also saw Christ the Redeemer, which is one of the New Seven Wonders of the World. I got do see this all while working with the NFL and a great production crew.
What is your favorite camera to film with?
Right now, I own the Canon C200. I thinks it's a VERY underutilized camera since people are scared to get into RAW. It's a beast of a camera that you can beat up and it just always works. With my shooting schedule and fast turnarounds, I can't have a camera with bad battery life, or a camera that may overheat, or a camera with a tiny screen. It's a very portable and lightweight cinema machine!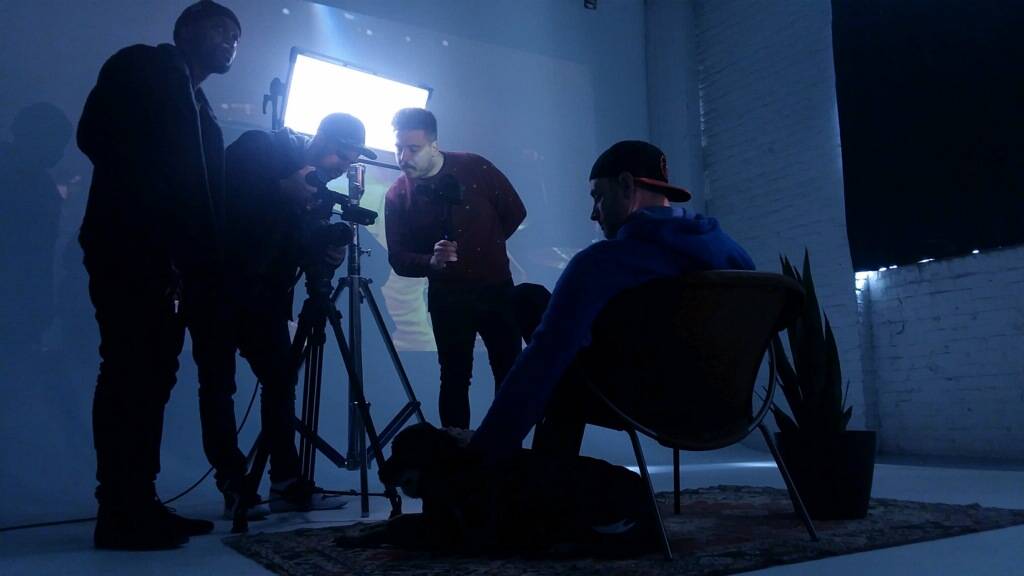 What's in your gear bag? Any items that you can't live without?
My gear bag has my camera, my Canon L glass lenses (specifically the Canon L 35mm 1.4 II and the Canon L 85mm 1.4 IS are my favorite lenses), my Rode NTG4+, and the Blackmagic Video Assist for a monitor if I need it or to get HD 10bit out of my C200. My MOVO rain cover is a must have now. I just used it in Brazil and it allowed me to keep rolling no matter how much rain was coming down.
In 2014 you left your job as a DP and marketing supervisor to start your own company. What was that like? Any advice for other filmmakers who are considering doing the same?
What was it like? It was scary, but you can't worry yourself to death. I still go through ebbs and flows and it's easy to get down on yourself. My advice is even when things are dead, CREATE CONTENT. If you want to work with the Dodgers, make a Dodgers video, find a producer who works for Dodgers on social media, message them, show them your work. Be classy and clever, not annoying and bothersome. Work on things you'd WANT to do. If you think you can make an amazing workout video for an NFL star, go shoot one with your workout buddy.
Too many people wait around for the big opportunity. You need to make your own opportunity by producing the work you're passionate about. Be social, use social media to your advantage, don't be annoying, offer VALUE, and keep creating. Good things will happen.
What are you currently working on? What kind of new and exciting projects might we expect to see from you in the near future?
I'm always cooking something up and I have some secret personal projects I'd like to get going. One is a TV pilot, and one is getting back into horror shorts. I want to take that up a notch. Horror has always been something I love, so producing a new horror short WILL happen this year. Also, I may get to do some more Periphery road work this year, which hasn't happened in years, so that would be fun. But that's on the hush hush too.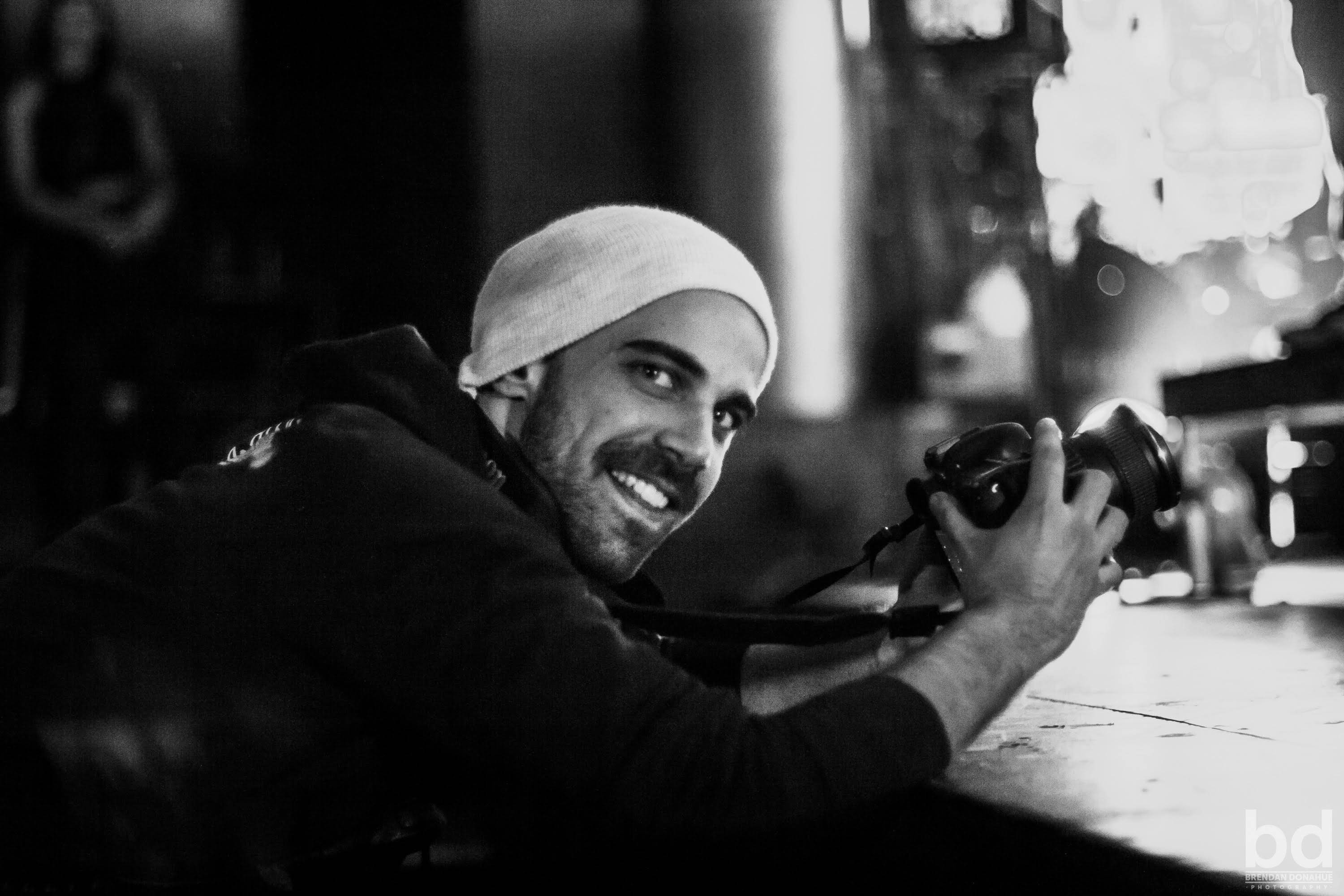 Thanks again to Alex for being this month's Featured Voice. You can learn more about Alex and see more of his work at his website, pressplaycreative.net
If you'd like to be featured next, you can read more about Featured Voices and how to apply here.