Zoom H3-VR Handy Recorder
THE ZOOM H3-VR
VR AUDIO, YOU'VE ARRIVED.
From 3D video to augmented reality (AR) to video games, fully-immersive 360-degree video is poised to shape the future of entertainment. Until now, 360-audio has lagged behind the quickly expanding field of 360-video. 360-audio solutions have remained largely inaccessible to the public - only available in a handful of expensive, hard-to-obtain options, such as the Sennheiser Ambeo VR ($1,650).
That's all poised to change with the Zoom H3-VR Handy Recorder - the first affordably-priced 360-audio recorder, making this field of audio recording available to everyone. The newest member of the Zoom audio family (releasing on November 7th 2018), the H3-VR combines a number of incredibly useful features that are essential for anyone interested in recording 360-video.
The Zoom H3-VR is available now at $349.99 or for just $384.99, you can get the Zoom H3-VR Bundle with a MOVO Deadcat Windscreen and 32GB Memory Card. Check out our review below, and see for yourself if 360-audio is right for you!
Features of the Zoom H3-VR
Zoom built the H3-VR to serve as a complete solution for capturing and processing audio in three dimensions as a full featured virtual reality audio recorder. The built-in 4-capsule Ambisonic mic, and the ability to work as a recorder and decoder, allows you to simply capture and easily implement all the omnidirectional, spatial audio you need for VR, AR or mixed-reality content.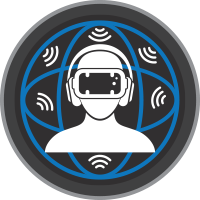 360-Audio Recording (plus 3D Stereo and Stereo Audio)
The 4-mic capsules Ambisonic mic captures 360 degree audio in quality up to 24 bit / 96kHz, and is protected by a typically "Zoom-looking" aluminum roll cage. Zoom has leveraged this mic to work for a variety of audio recording applications
In addition to capturing VR Ambisonic audio, it is also able to record binaural 3D stereo, for enhancing 2D video productions with engrossing 3D audio. Of course, it can also be used to record standard stereo for cases where you don't have another digital recorder available, or don't want to take another piece of equipment with you.
---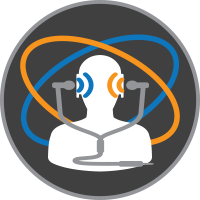 In-Device Audio Conversion
Previously available Ambisonic mics required audio to be exported to a computer for post-production processing into a VR-ready format (Ambisonic A to Ambisonic B).
One of the most efficient features of this new Zoom recorder is the ability to do all the encoding and decoding of your Ambisonic files right in the H3-VR. No additional computers or file exporting is necessary before you pair your audio with 360-video.
---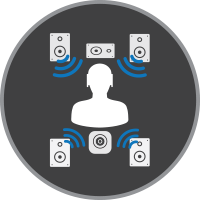 Efficient, Effective Design
The H3-VR has an immediately recognizable, conical shape. In addition to looking like a space capsule from the future, this conical shape serves the important function of allowing the mic to stay out of your shots. A tripod mounting screw on the bottom of the recorder even makes it easy to mount upside down, underneath your 360-video rig.
Of course, when it comes to 360-audio the orientation of your mic needs to be carefully monitored to ensure that there are no miscalibrations when synced up in post. For that reason, Zoom has integrated auto mic positioning and level detection, so the recorder knows where its orientated in space. These systems automatically calibrate your audio to ensure it is always correctly aligned for post.
In a delightfully detail-oriented touch, the position detectors know when you've mounted the recorder upside down and will automatically re-orient the LCD screen readout to be right-way up – saving you the trouble of having to crane your neck around.
---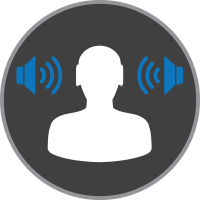 3D Headphone Monitoring
We're all familiar with the importance of being able to monitor your audio while you record. Ensuring the quality of your audio in 360-audio recordings presents unique challenges not present in 2D audio recording. Fortunately, H3-VR takes audio monitoring to the next dimension.
The onboard ambisonics playback allows you to simulate spatial audio by rotating the audio while you listen, so there is no guesswork involved in the recording process.
---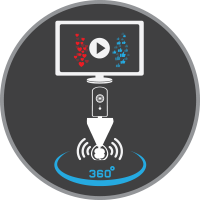 Convenience and Flexibility
The H3-VR incorporates a plethora of other helpful features for making recording sessions easier.
An optional Bluetooth adapter add-on (the BTA-1), allows remote activation of the recorder through the H3-VR control app. You can stay safely out of the video when you're ready to record, and even remotely operate the transport controls, adjust levels or enter metadata notes. It's important to note that the app is only available for iOS devices.
Multiple power options are available – functioning for over 11 hours on just two AA batteries, but also able to work off of portable USB powerpacks, or via an AC adapter for even longer shoots.
The H3-VR also work for live streaming, video conferencing, direct recording and more. The audio interface mode lets the H3-VR work as a USB 360 mic for your computer, or as a stereo mic for your iOS device.
4 built-in mics arranged in an Ambisonic array

Full-sphere surround sound recording

Single-knob gain control of all input levels

Onboard Ambisonics A to B decoding

Three recording modes: Ambisonics, Stereo Binaural or Standard Stereo

Record up to 24bit/96kHz

Stereo binaural monitoring of Ambisonics signal

Headphone output and line output

Slate tone

Extensive metadata

Auto Mic Position Detection using 6-axis gyroscope (upfront, endfire,
upside-down, endfire inverted)

Level Function to ensure precise angle placement

Wireless iOS remote control available with BTA-1 Bluetooth adapter

Onboard Ambisonics playback with audio rotation

Accurate internal clock with .5ppm discrepancy

USB 2.0 Audio Interface Mode

Zoom PC/Mac post-production software

Powered by 2 AA batteries or USB bus power

Records to SD card up to 512GB
The H3-VR currently has two different optional accessory add-ons. While the recorder comes with a foam windscreen, anyone planning on recording outside will want to pick up the WSU-1 furry windscreen to dampen wind noise.
For remote control, the BTA-1 Bluetooth adapter (mentioned above) will let you control the recorder from an iOs app, making it simple to start and stop recording, or make other simple adjustments. For just $384.99, you can get the Zoom H3-VR Bundle with a MOVO Deadcat Windscreen and 32GB Memory Card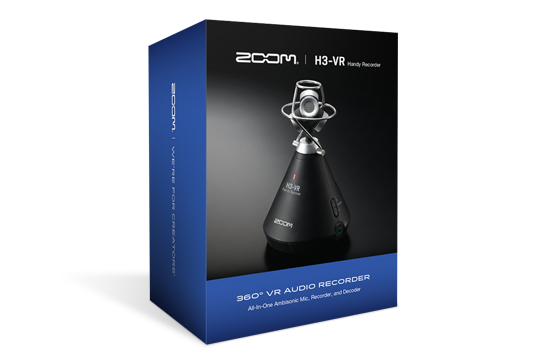 H3-VR Handy Recorder

Foam windscreen

Dual mounting bracket

AA batteries