Motion Control Systems for Advanced Time Lapse Videography
Motion Control Systems for Advanced Time-Lapse Videos
---
Time-lapse videos are some of my favorites. They're like a fast-forward movie trailers, or a time machine that flashes your life by in a few seconds.
Making time-lapse videos used to be a rich man's hobby, but not anymore! Whether you're making them the old-school way with a slider or a dolly, or you're a tech-savvy motion control master, you can find great motion control gear that fits in with almost any budget.
What Makes a Good Time-Lapse Subject?
Time-lapse technique focuses on greatly sped-up video, so a good time-lapse scene will show interesting changes over a set span of time. Depending on how fast the scene changes, the production time of your time-lapse video could be an hour, a day, a month, or even over years! If you're a beginner of time-lapse photography, below are some good subjects for you to try and practice:
1. The Sky: The classic time-lapse subject is the sky: sunrises/sunsets and clouds make for endlessly interesting scenes.
2. Moving Objects: Traffic is also a good subject, especially a night view of highway traffic.
3. Shadows: Long shadows can be an interesting subject. The best time to make a time-lapse video of shadows is during sunset and sunrise, as the change is quick and obvious
If a subject changes over a much longer period of time (for example, tracking a pregnancy for the entire term), an alternative approach is to shoot a number of short time-lapse clips or take individual frames, and then combine them together. If you try this approach, make sure the speed is the same in all the individual frames.
Advanced Time-Lapse Motion Control
Static time lapse videos are good, but motion-controlled time-lapse videos are great!
Adding smooth motion to your camera can significantly improve your time-lapse video quality. However, getting into this field can be a big commitment, because most motor control systems are quite expensive. To help you understand the available options, and the criteria behind these choices, we'll review the different types of motions, and look at products on the cheaper end as well as the expensive end of the scale.
Rotation: You can easily add some rotation or panning motions to your video with the assistance of a motorized motion control system. Fortunately, rotation is a relatively affordable form of motion control. A great rotation control system is the MOVO MTP-11 Time Lapse Head. The MTP-11 is portable, rechargeabe and easy to use.
Simply put it on your tripod, attach your camera, Go-pro, or smartphones and the setup is done! The MTP-11 is also programmable, allowing you to set the duration and rotation of the tripod head so you can set it once and leave it.
For an even more cost effective alternative to motion control rotation, MOVO offers the MTP1000 and MTP2000. These units work great for GoPros, smartphones and DSLRs up to 4.4lbs, and provide a full 360 degree rotation, either every 60 or 120 minutes
Tilting, Sliding: Now we're talking about true motion control! With motorized slider systems, you can set your camera up horizontally, vertically, underslung, or with an angle, making any sort of motion tracking easy to achieve.
There are quite a few time-lapse sliders out tehre, and they can be quite pricy. When comparing these sliders, make sure you check the following criteria:
Weight and size: Depending on your subject and location, you may need a bag/luggage to transport the slider system, and knowing the weight and size helps select the correct container.

Types of motion: A good motion control system should be able to perform panning, tilting, and sliding.

Battery life: Because time lapse videos usually require a lengthy period of time, check to make sure the battery or power source can last long enough to support your shooting requirements.
To start with the slide motor control system, you could consider an entry-level product like MOVO WMS80, which is one of the most inexpensive versions on the market and has great quality for the price.
Dynamic Perception is another common choice for hobbyists. For a more powerful motorized system, the MOVO Pro 49 makes a great choice. Not only can it trigger and control the motor speed, it's also extremely programmable – allowing you to set focus time, exposure, time interval and more with a very fine degree of control.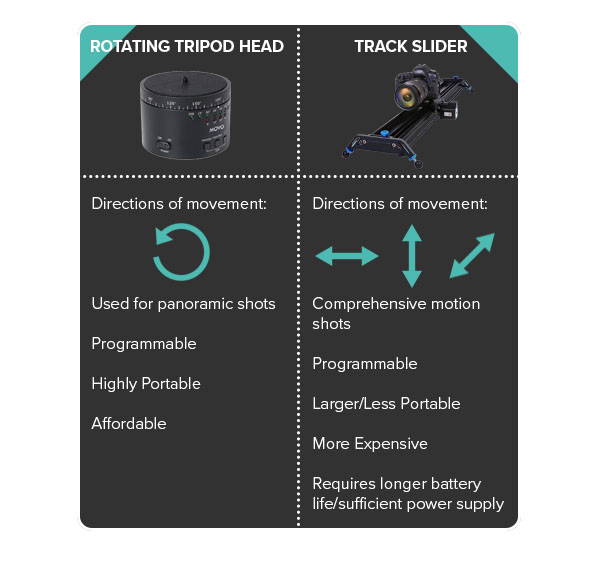 ---
Choosing a good motion control system can seem overwhelming. We hope this article provides some useful information for you to make an informed decision. Investigating a solution is step #1. To learn and master motion-controlled time-lapses, we find this article comprehensive and instructive with great tips on composition, movement selection, intervals, and more.